Transworld Middle Market Business Sales Has A Proven Track Record on How to Sell A Company
Seller Services

There comes a day when every business owner begins to think about succession planning. When you sell your business you want to get top dollar with attractive terms, and that means identifying the right buyer at the right time. That's where Transworld M&A Advisors comes in. Our qualified advisors specialize in selling businesses valued between $5 million and $100 million, and are focused on working with you to negotiate the most favorable deal on your behalf.
Our Process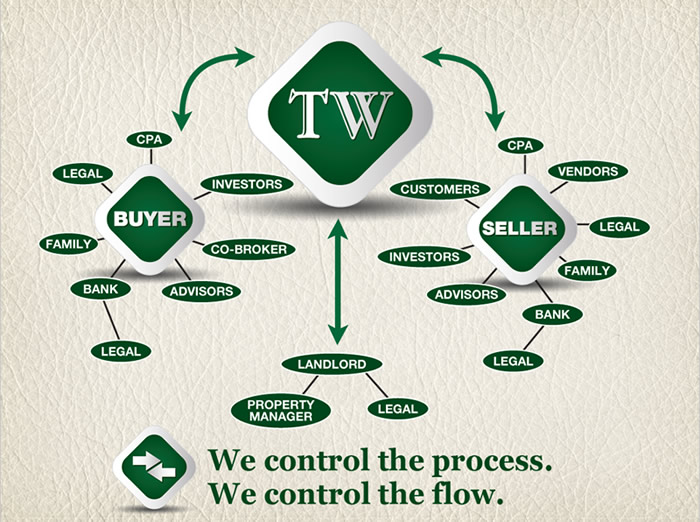 Selling your company is a complex and demanding process. Transworld M&A Advisors are here to guide you through the process, representing your best interests at every turn. We begin by sitting down with you to understand your future goals. This allows us to present all of the options available to you, so you can select the path that's best for you. We will also help you understand how much your company is currently worth. From there, we work with you to create a plan for networking and promoting the sale, while maintaining the utmost in confidentiality. Once several attractive buyers are identified, we meet with the potential buyers and help you evaluate which represent the best cultural fit. Finally, we work diligently to negotiate the sale to get you the most attractive price and terms and close the transaction with the buyer that is most attractive to you. Simply put, Transworld M&A Advisors is dedicated to representing your best interests and obtaining for you the greatest achievable value for your company.
Recapitalizations
Is your company growing and in need of additional capital or expertise to take it to the next level? Are your personal guarantees of your company's debt disturbing your sleep? Perhaps you are not quite yet ready to retire but feel it would be nice to take some chips off the table and get out from under your personal guarantees. Transworld M&A Advisors can help based upon the long-term relationships our advisors have with private equity and family office investors. At Transworld M&A Advisors your objectives are our objectives, and we will provide you with the expertise and guidance you need to achieve the greatest price and terms.

Complimentary Consultation
Whether you are prepared to sell or simply want to explore your options, Transworld M&A will be happy to provide you with a complimentary, no obligation consultation. We want you to feel confident knowing that you and your business are in the most capable hands with our exceptional team, and we are confident in our ability to help you achieve your goals.
Contact us today to learn more
.